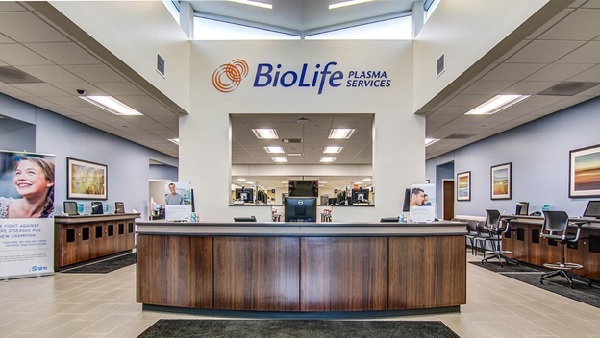 Image credit: Indeed
What Does BioLife Do?
BioLife is an industry leader in plasma-based therapies and collecting plasma for multiple medicine manufacturing needs. Since 2002, it has provided life-saving treatments for patients with hemophilia, immune deficiencies, and other rare blood disorders. Plasma is also valuable for treating critical conditions, such as critical burns, immune disorders, and viral infections.
The plasma center collects plasma from donors all over the United States of America and then uses that plasma to create medicines and treat patients. With around 20 years of experience, the company focuses on providing life-changing treatments for people with rare diseases.
BioLife Plasma Center cares about the health of its donors, donating responsibly, and being a healthy company. This is why they have introduced a streamlined approach to donation. It involves an initial appointment to screen your health condition. Upon passing the tests, you will receive the green light for the donation. The company has many donor centers across the country, so you can choose one convenient for you.
Who Is Eligible for Donating Plasma at BioLife?
The deals and coupons won't mean anything if you are not eligible for donating plasma. So, BioLife screens everyone wanting to donate plasma. You'll need to fill out paperwork proving your identity and address. You'll be asked if you have a history of any illnesses or other conditions. This screening helps the company make the safest possible decision about treating critically-ill patients with plasma.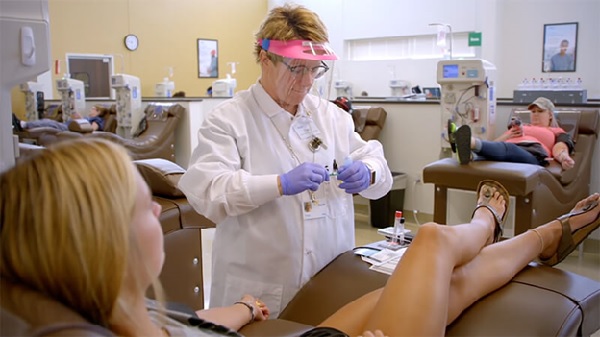 Image credit: Jobs and Careers BioLife
Donating plasma can help people who need regular transfusions for severe anemia, bone marrow problems, and clotting disorders like hemophilia. Who is eligible? Your age, weight, and a couple of medical factors determine the eligibility requirement for donating plasma.
To be an eligible candidate, you must:
● Be at least 18 years old.
● Weigh 110 pounds or more.
● Not having blood pressure, high temperature, and a high pulse rate.
● Not having anemia and hematocrit.
● Have a specific protein level in the blood.
● Not be suffering from hepatitis and HIV.
● Not having a piercing or tattoo in the past 4 months
● Agree to not consume alcohol on the day of donation.
The doctors at the plasma center will perform other medical screenings to ensure that you can provide healthy plasma. Also, the procedures determine whether you are in the proper health condition to make the donation.
Why Do You Need to Get the BioLife Card?
Many people in the US donate plasma for money. BioLife is a company that offers compensation for individuals that donate their plasma by adding it to the 'BioLife Card', which can be used as a debit card.
The card is designed to make it easier for donors to receive compensation for plasma donations. The allotted payment is automatically added to your card every time you donate. It makes keeping track of your balance so much easier! It's a better way to receive and manage donor rewards than getting cash and bank transfers.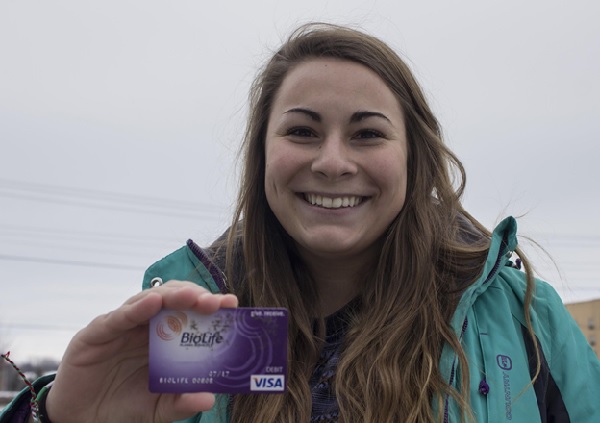 Image credit: Ball Bearings Mag
You cannot add funds to that card because only BioLife can load money for each eligible donation. The card is a debit card that can be used anywhere MasterCard is accepted. There are some small fees associated with the card, so check them before applying for one. If any store offers cashback or rewards for debit card shopping, you will receive that with this card.
First-time users need to register their card and then activate it by calling a designated number. BioLife Card is an innovative new way for donors to be compensated for their plasma donations.
Different Ways to Get BioLife Coupons and Deals Online
BioLife actually does not provide any coupon for donating plasma. Instead, it offers compensation and bonuses for donors, and most of them don't require applying any coupons. Your only job is to register as a new or returning donor.
However, the company still gives out occasional deals through its newsletter, app, social media accounts, and other platforms. Let's explore each way to have a clear idea about earning some money through donating plasma.
Claim the new donor bonus
Every new donor can earn up to $900 during the first month of donation. It's pretty lucrative, especially when you think that you won't have to give anything except for two hours of your time on the day of each donation. It's something like donating blood, so there won't be any significant side effects on your health.
You will often find new donor coupons that offer rewards over 3 to 8 donations. For example, it could be a $300 reward split over 5 donations. All you have to do is print the coupon out and bring it to the center during your first donation.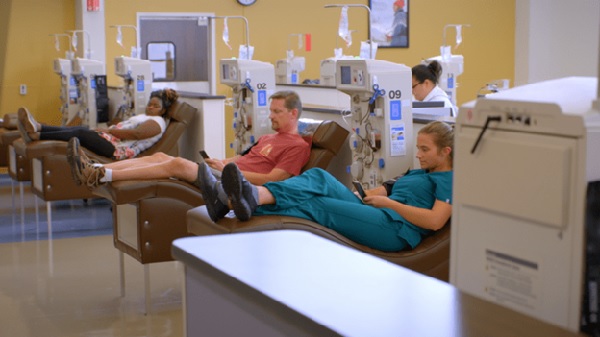 Image credit: SunTrust Blog
So, what do you need to do to get the bonus? Well, you have to sign up on BioLife's website or app by putting your details (it requires only your name, email, and zip code). After creating your profile, you will get an email confirmation. And that's it!
Your next step would be to make an appointment at the nearest BioLife center for your health screening and other formalities.
Bonus for returning donors
You can earn the highest amount by signing up as a new donor and keep donating every week. But what happens if you need to take a break? You could be sick, busy, or life just happens sometimes. BioLife has an incentive bonus system to motivate donors like you to return more often.
If you have not donated in the past 6 months but want to go back to the old habit of giving, just go to your nearest BioLife center. GIven you have passed the health screening, you will receive $75 as a bonus for just returning to donate again. You will get $25 after the first donation and $50 during the second time.
The BioLife Plasma Center believes that donors are their best resources. They are not just donating plasma - they are literally giving life! So, the company provides this incentive hoping that it will increase the number of donations and promote the idea of giving back.
Receive coupons via emails
Anyone who registers as a donor with BioLife will automatically receive the company's newsletters. These newsletters contain instructions on how to get coupons, deals, and vouchers. All you have to do is pay attention to these newsletters because they contain the most up-to-date offers.
BioLife has a fixed compensation for new and returning donors. But the newsletters sometimes include special coupons offering more significant rewards.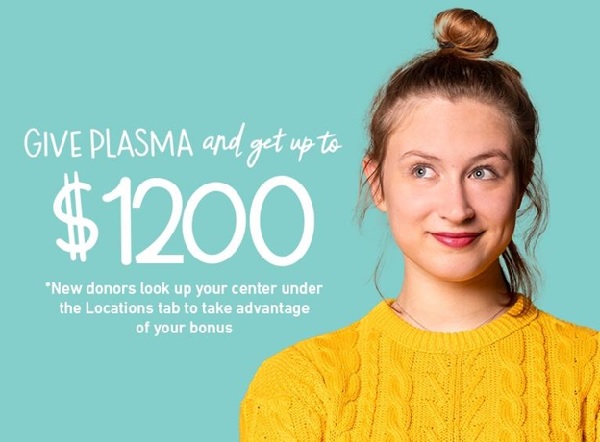 Image credit: The Washington Independent
For example, you can get a more considerable amount than the usual compensation by using a deal or coupon provided through the newsletters. The bulk of the donor's payment depends on the volume of donations. In other words, the more plasma you donate, the more you can get paid.
If you are a regular donor, you might be eligible for a standard bonus. BioLife sends emails each month to everyone who qualifies for extra rewards. To sign up for the newsletter, you need to choose to receive promotional emails from your donor account.
Be a BioLife Mobile App User
The company also posts new information and updates through its mobile app. The app serves the same purpose as the newsletters and so much more. It brings everything under your thumb, from scheduling appointments to tracking your rewards. Also, you will receive promotional offers and information about the plasma center closest to you. The unique advantages that the app users will get are:
Get current promotional offers: Each month, the company has different offers and deals. You'll get the latest update of these offers by using the app regularly.
Track the progress to get promotional rewards: On the mobile app, you can see your progress towards the promotional bonuses. Once you reach certain milestones, you will earn special prizes.
Manage the Buddy Bonus program: The app will help you manage the Buddy Bonus program. Also, it makes sending the invitation much easier.
Check all incentives you are eligible for: It will keep track of your weekly incentive activity for each plasma center. You can check your user account to see how many times you donated and on which date.
Manage the money you've earned: You can access the money you've made through your account. Your earnings are allocated to your card, and you can use it anywhere that accepts debit cards.
Check schedules quickly: The app users will have a detailed calendar with all upcoming appointments and departure times. This way, they will get every detail of the next plasma donation.
Take Advantage of the Buddy Bonus Program
BioLife Plasma Center has a 'Buddy Bonus' program that rewards people for joining their friends and acquaintances on the donor list. It's hard to get healthy people willing to donate their plasma. So, the referral reward is BioLife's way of saying 'thank you' for bringing generous, healthy donors onboard.
Through BioLife's refer-a-friend system, you can earn cash for referring your friends and family. The program is free to join, and members get $150 for every person they refer who completes two donations. To be an eligible referee, you have to make a successful donation in the past 6 months. The person you refer has to make the second successful donation within 30 days of the first one.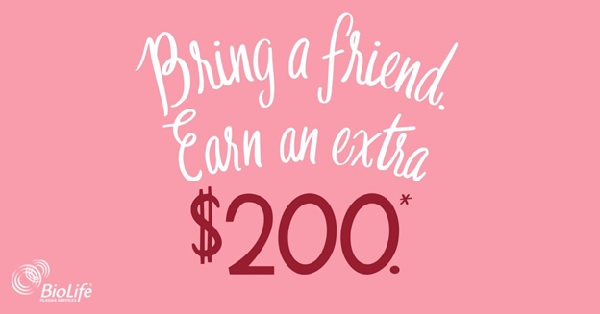 Image credit: Twitter
Remember that the amount of referral bonus could change from time to time. It could be even more than $150, so you should always look into the website or app to know the correct figure.
Anyone interested in taking advantage of this bonus should ask the BioLife customer service about the rules and guidelines to follow. Currently, you have to print out a coupon and fill it up with a bit of information to introduce your referred donor. The referral bonus money will be added automatically to your BioLife Card after the successful donations.
Earn More with the Rewards Program
Plasma donations are essential for the well-being of millions of people. BioLife incentivizes the process by offering its regular donors an exclusive rewards program. Given you donate at least two times a week, you will be promoted to any of the four available tiers - Bronze, Silver, Gold, and Platinum. The highest tier is for those who have been doing this for a long time.
Each tier offers $20 for the first donation. The payment becomes more than double that amount for the second donation of the week. Bronze members will get $50 for the second donation of the week but $70 for the Platinum members. By being a regular donor, you can earn up to $360 in a month.
Every new donor is placed in the Platinum tier, which is an excellent way for sincere donors to make good money. However, things will be back to square one if you miss one week. Then, you have to climb the ladder to reach the top tier.
Conclusion
BioLife Plasma Center is a trustworthy and reliable plasma donation center. It compensates the donors handsomely for donating their valuable plasma. You can find BioLife coupons online quite easily and earn a healthy amount regularly by following these tips. The company is a good choice for anyone who needs to donate or wants to learn more about donating blood, plasma, or platelets. Just go to your nearest center and see how the company is positively impacting people's lives.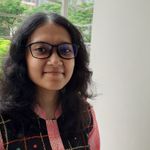 Rehana Akter
Rehana has over nine years of experience in SEO, proofreading, and copywriting. She believes in the power of the written word to inspire, inform, and bring people together, and she brings her A-game to everything that crosses her desk. One of her favorite subjects to write about is shopping and couponing—and teaching others how to do both well. She can help you fill your shopping cart with the best deals on the web.
Hand-picked latest deals delivered straight to your inbox.