Do you love Papa John's? We do too! From their delicious crust to the perfect sauce, we can't get enough of it. It's one of our favorite pizzerias in town, and we're always looking for new ways to enjoy it. What better way than with a discount code or free pizza coupon from Papa John's!
There are many ways to save when eating at Papa John's pizza locations. You can use rewards points and coupons for free pizzas or discounts on any order! Check out these great deals and start saving today!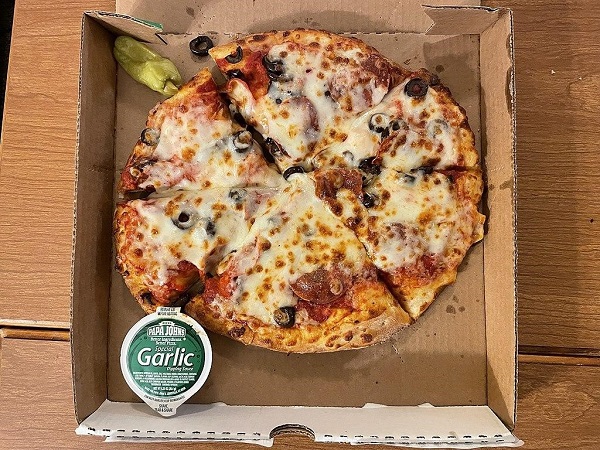 Source: Wikimedia Commons
Papa John's is a pillar of the fast-food industry in the United States. The company was founded in 1984 by John Schnatter, who started selling pizzas from the broom closet of his father's tavern. From that humble beginning, the pizza chain — which is currently headquartered in Louisville, Kentucky — has around 5,500 locations worldwide.
Papa John's is one of the world's leading international take-out pizza restaurant chains (some franchises have the dine-in option too). One of their main goals is to make affordable food for everyone. They are trying to offer healthier options too, like gluten-free dough and low carbs crusts. Previously, they also worked with high school athletes by donating money to their programs.
The pizza joint is a place to get the supplies for the ultimate night in. Whether you're craving a mind-blowing pizza, appetizing sides, refreshing drinks, or delectable desserts — Papa John's has it. From the base to the toppings, you can customize your pizza with whatever your heart desires.
Do you want a thick crust? Thin crust? How about just one side or do you want more? What kind of drink? Chocolate brownies or cinnamon pull-aparts for dessert? Just place your order, and they will have it done for you!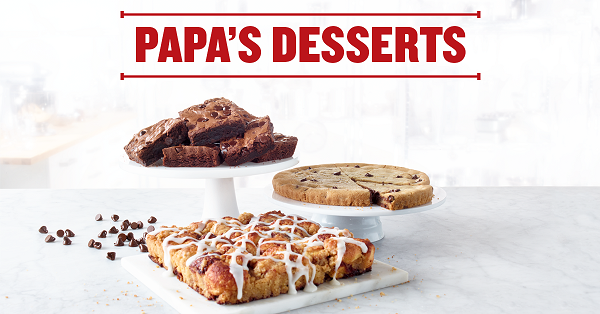 Source: Twitter
The pizzas are popular because they are delicious with freshly made dough and ingredients. They come out piping hot from the oven — crispy on the outside and chewy on the inside. The sauce is tangy without being too acidic, the toppings give the right amount of kick, and the cheese melts just enough to be gooey but not so much that it slides off your slice.
And there is a wide range of topping choices to suit any palate. You can enjoy pepperoni, sausage, grilled chicken, and more options that make these pizzas perfect for any occasion.
How to Get Papa John's Coupon Codes and Free Pizzas
If you love pizza, then Papa John's is the perfect place to get your fix. They are one of the most popular pizza chains in the world and they often treat their customers with discounts and free pizzas!
Let's explore various ways to get Papa John's coupon codes and free pizzas. Why wait another minute when you could be enjoying a delicious, hot, cheesy pizza for free or without paying the full price?
1) Sign up for the email newsletter
You can start by signing up for Papa John's emails and newsletters. They often send out coupons to their customers, and you could be the lucky recipient! You'll know about their latest offers as soon as they happen — no more waiting around until it is too late!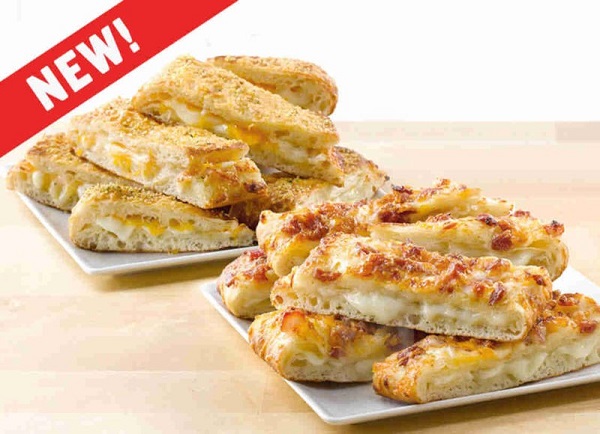 Source: Trend Hunter
Signing up can be done in two ways — by entering your email address or phone number, or both. This will also allow you to receive text messages with attractive deals and discounts! There's nothing to worry though because subscribing to text messages or newsletters is not an obligation to purchase.
It's possible to opt out of text messages and newsletters at any time. Although you may not want to do that because these promotional offers always bring news of special offers and sales.
2) Check out Papa John's social media accounts
Even if you haven't received a promo code in your inbox, don't give up — there are other ways to get your hands on Papa John's coupons.
Since we're on the topic of coupons and free food, it's important to note that the pizza chain posts its latest deals and discounts on social media! They often share special codes in their Facebook, Instagram, and Twitter accounts.
Make sure you follow them because they post all kinds of great stuff like pizza giveaways or offers exclusive only to their followers! We highly recommend not to miss their social media activities if you want to get your hands on some tasty pizzas for free or at a discounted price.
They also run contests, offering free pizzas or huge discounts to winners! You can enter by following Papa John's on social media and liking/commenting on their posts. Sometimes it's about tagging friends or sharing the posts with people on your list.
One more thing: even if you don't see an offer on their official Facebook page (for example), it's worth a try to check out their Twitter handle or Instagram profile. It's normal for an offer to be exclusive to one social media platform, so it won't be advertised anywhere else.
3) Order from the official website
The official website is another great place where you can get Papa John's coupon codes and free pizzas. When you create an account on their website, you'll be given access to personalized offers and discounts.
Also, click on the 'Specials' deals at the top of the page. Filter by deal types and check the offers available, and apply your discount right away. Enter the ZIP code to find the stores nearby your location.
The offers and special discounts will vary depending on where you live. For example, there could be a 20% discount offer on pepperoni or triple bacon pizzas at the California outlets. Or, it could be a 'Buy 2, Get 1' offer or some other type of deal for people living in Houston.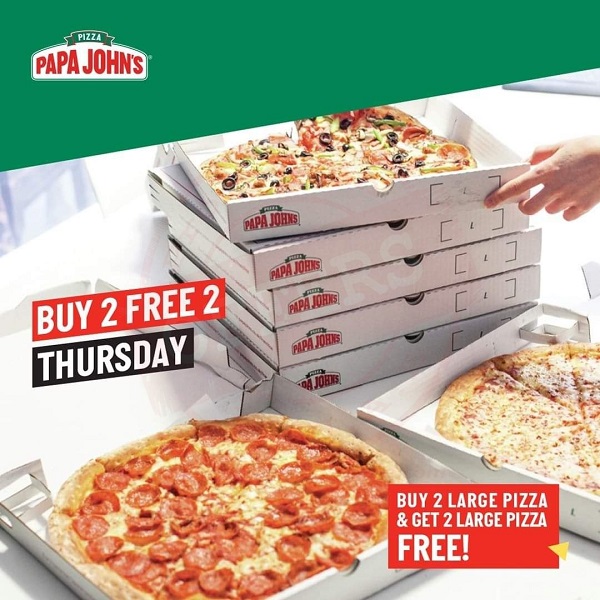 Source: Promotions in UAE
If you have a coupon, all you need to do is add the pizzas to your cart and enter the code that applies in the promo box. Struggling to find the perfect code? Don't worry! You can send Papa John's customer service your inquiry via their website.
4) Check out the banner offers
What's a pizza chain without its deals and discounts? Being one of the most popular pizzerias in the world, it comes as no surprise that Papa John's has a lot to offer its customers.
Sometimes, they run banner offers on their official website. These include Papa John's coupon codes, weeknight savings, or free sides and desserts. You can use them to claim discounts or free items.
The best part about these deals is that you don't have to do anything except sign up for an account on Papa John's official website. These banner offers are usually available for everyone, so all you need to do is visit the page and sign in or register your email address.
Papa John's is very generous when it comes to banner deals. It's possible that you'll be able to get a 50% off on your food purchase.
5) Take advantage of the student discount
Are you a college student or still enrolled in school? You can take advantage of Papa John's student discounts to help stretch your buck even more!
The pizza chain offers 10% off on pizzas, which is great for students who are always on a skimpy budget. The promotional offer can be applied only to online orders.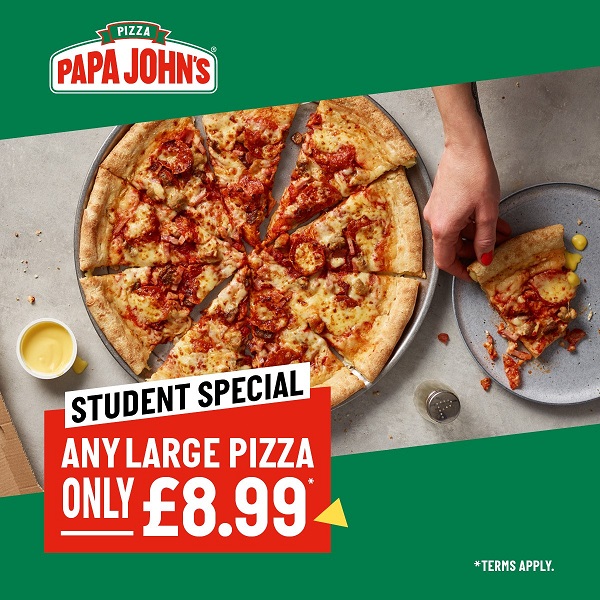 Source: Twitter
All student discounts are currently available for UK franchises. Registering with Student Beans will allow you to have £10 off on each online order when the minimum order value is £25. The discount amount changes from time to time. So, it could be a 33% discount on your total order or a free medium pizza on a minimum order value.
You can also register an account on the Papa John's UK websites to unlock all exclusive pizza offers for students.
6) Earn rewards points on every purchase
If you haven't heard about Papa Rewards, then you have been missing out on some serious perks. It's a loyalty program that offers its customers an opportunity to earn points with every purchase. You can then redeem these points for free pizzas and other offers at Papa John's restaurants nationwide.
Here is how it works: Once you sign up for the program, you get one point for each dollar spent on food or drinks in all franchise locations. You also get one point for every dollar spent on food and drink ordered online.
Once you have earned enough rewards points (75 to be exact), you can redeem them for $10 in Papa Dough. It means that you can spend that $10 on any menu item. It's possible to apply your points to a different order if you still have some left after redeeming the previous one.
The points stay valid for an indefinite period as long as you keep earning and redeeming points. Only after a 12-month of account inactivity will make the points expire.
As a rewards program member, you will be eligible for some exclusive gifts and coupon codes, including:
a. Birthday Gifts
This gift offer is valid only for customers living in the United States. As a papa Rewards member living in the USA, you will get a free dessert gift into your Papa Rewards account on your birthday. You can redeem it within the next 14 days and add it to another order if you wish.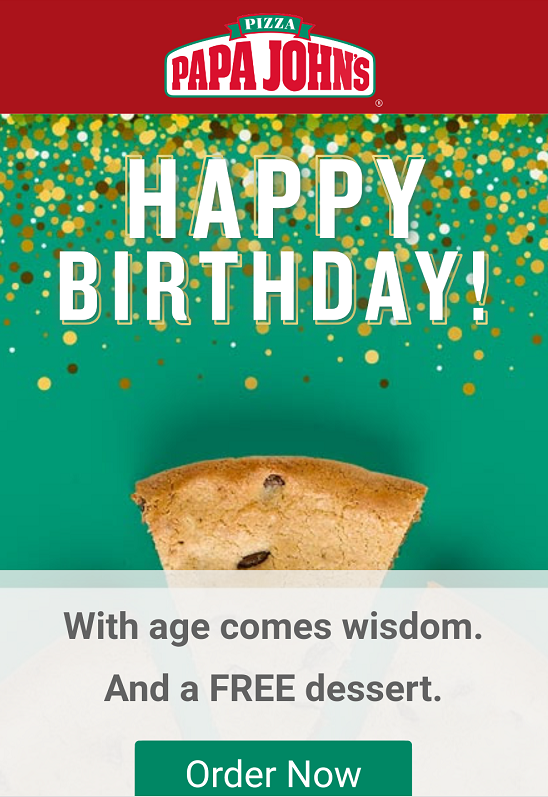 Source: reddit
b. Other Offers
Sometimes, Papa John's announces special pizza offers for their rewards members. These offers are time-bound, so you have to redeem them within a limited timeframe. Also, some deals are valid for only online orders, while you have to redeem others by placing the order through the mobile app. So, read the fine prints of the deal before making an order.
For example, there was a past promotional campaign offering a large 2-topping pizza for free on a minimum order of $20. These deals often change but they will never fail to satisfy your palette.
7) Order via the mobile app
Did you know that Papa John's has an official mobile app? If not, now is the best time for you to learn about it!
The first step is to download their app on your smartphone. It's available for both Android and iOS devices. After downloading, open the app and create an account if you don't already have one.
The best part? You can use promo codes while ordering! This means that it's possible to save money on every single purchase by using Papa John's coupons or promotional offers.
Also, lucky customers can get a free pizza after ordering for the first time. In some countries, the company allows new customers to redeem a free pizza for ordering through the app.
Oh, and one more thing! Make sure you don't miss out on their discounts for regular orders. Order from your nearest branch on the go while taking advantage of all the latest deals. Sometimes, you can get 50% off an order — just by using the app to place your order. Now that's a great deal!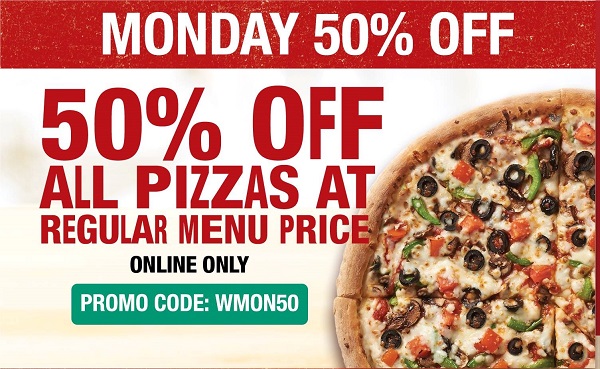 Source: Facebook
You can also access the loyalty program from the app, where points will be added to your account with every purchase. It also allows collecting reward points by dining in. Just scan the bill and points will be added directly to your reward wallet. These points can be turned into free pizzas! Pretty neat, huh?
8) Earn your gift card freebies
On some occasions, Papa John's offers free pizzas or other discounts on the purchase of gift cards. There was a past campaign when you would receive a promo code for a large pizza upon purchasing gift cards valued at $25 or more.
If you want to score some real deals, then check out their latest offers on gift card giveaways! Remember that these deals are not the skimpy ones with minimum topping options. In most cases, you can add multiple toppings of your choice.
If you're planning to buy a pizza for yourself or your friends and family, then buying a gift card is the way to go. You can purchase them in-store or online. The deals that come with gift cards will have an expiry date, so take note of all rules and don't miss out on anything.
9) Get discounts with Papa Track
Papa Track is Papa John's pizza tracker that allows you to track your pizza order from start to finish — free of charge! Through this feature, it becomes easier to keep tabs on your order, from the order confirmation to the delivery.
With Papa Track, you earn discounts for your next pizza order. It's really easy. After placing your order, you will see the progress of every step through funny animated GIF images. At one point, you will see funny memes with links to share on Facebook. By doing so you can earn a 25% off promo code on the regular menu price of all items.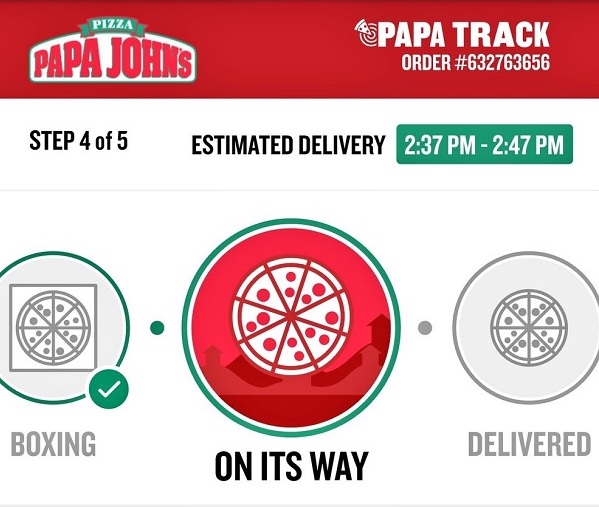 Source: Twitter
10) Other Ways to Get Coupon Codes
There are more ways to get your hands on Papa John's coupon codes and free pizza offers.
a. Check your local newspapers
Your local newspaper or other organizations could give away free pizzas. Don't believe that? Well, the Houston Chronicle just ran a campaign in September this year and gave away 15,000 free Papa John's pizzas.
The online campaign just wanted the email address of the participants in return for a coupon code for a free large pizza. The codes were redeemable from the Papa John's stores in the Houston area.
b. Don't like your pizza? Get a free one!
One of the most important parts of a business is customer service. For Papa John's, that means making sure that if you don't like your pizza, you can get another one for free.
You have to give a concrete reason about why you don't like the pizza and if that fits their terms and conditions, they will deliver another one to your address. With this policy, Papa John's guarantees that every customer will be satisfied with their meal.
c. National Pizza Month
There is no better time than October to indulge in pizza! It is the National Pizza Month in the USA, and Papa John's always runs promotional offers during this time to make their customers happy. They usually give a promo code that you have to use when checking out with Papa John's online. The prize value changes each year but it's typically a free pizza with the regular order of at least one pizza.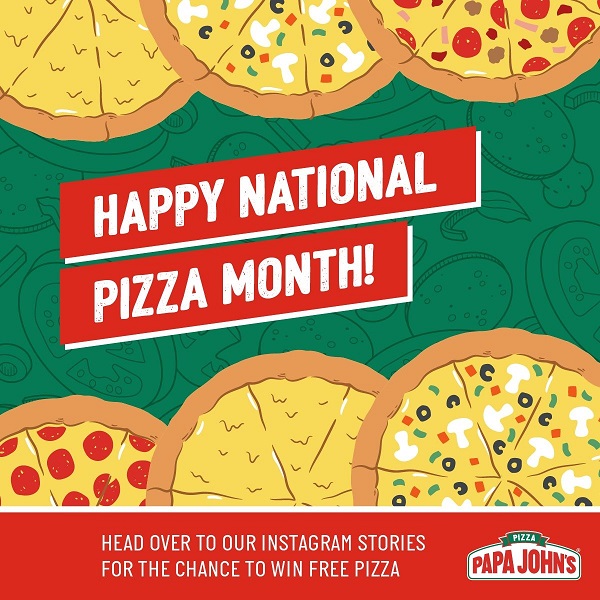 Source: Facebook
d. Get free pizza slices on the National Bitcoin Pizza Day
On May 22, Papa John's gives free pizza slices in their Jacksonville locations. By doing so, the company commemorates the day when a man named Laszlo Hanyecz bought two Papa John's pizzas for 10,000 BTC. Well, those two were some costly pizzas, we must say.
e. Random free pizza offers
You don't have to use any coupon code to avail of these offers. These are more like being in the right place at the right time. For example, the pizza chain handed out free pizzas to the East London park goers on May 29 this year.
Conclusion
There are many ways to get Papa John's coupons. Some are more time-consuming than others, but the time you spend will be worth it when you get the free pizzas! When you have a coupon code from Papa John's, it can be used for online orders and in stores. By following these 10 easy and simple steps, grab those codes without much hassle and enjoy your favorite pizzas for free.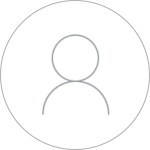 Hand-picked latest deals delivered straight to your inbox.